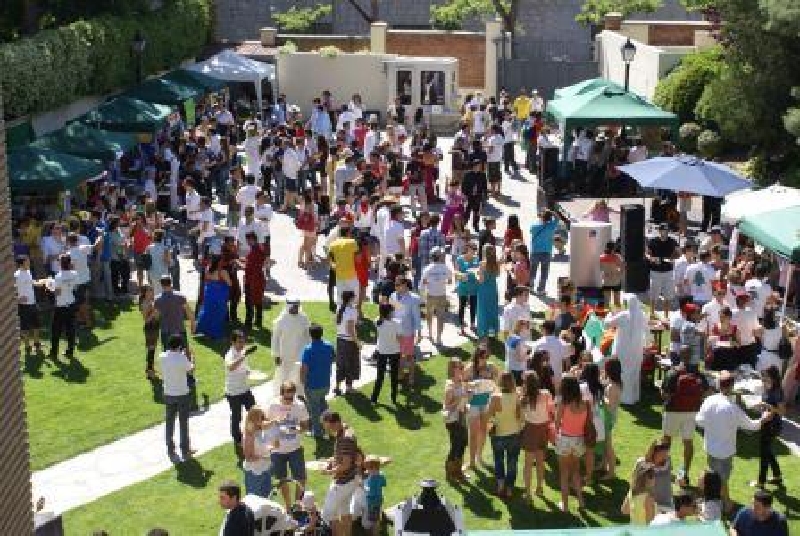 IE Business School held Global Village 2013 in June this year. Five hundred students and alumni from over 80 countries took part in the multicultural event, which served to showcase the best of their countries' cuisine, art and traditions.
There were stands from 25 countries in this ninth edition of Global Village, providing information on tourism and cultural heritage. The event also featured gastronomic exhibitions and music and dance from the different countries, including capoeira, belly-dancing, tango, typical dances from India and Mexican rancheras.
The funds raised by the sale of tickets for the event will be used to fund the IE Social Responsibility Forum 2013, an international workshop that serves as a platform where experts from around the world examine the corporate strategy challenges in the field of social responsibility, and which is set to take place on November 22 and 23 in Madrid.
Giedre Pavalkyte, Campus Life Manager at IE Business School explained that Global Village is unique to IE Business School. "It is aimed at celebrating the cultural diversity of our students and showing the rich tapestry of countries on our campus. Global Village permits students to get to know each others' countries by showing the best of their home countries, their traditions, their music and dance, their gastronomy and folklore, thereby enriching their academic experience."
The Global Village event is organized by IE Business School's Net Impact Chapter. Net Impact serves as an international platform comprised of 40,000 students and professionals in over 300 chapters around the world who use best business management practices to change the world, promoting initiatives in fields that include CSR, sustainable development, social entrepreneurship and responsible investment. IE Business School's Net Impact Chapter has just achieved gold standing within the Net Impact network, the highest distinction awarded to the chapters that form part of the organization, for work undertaken in the 2011-2012 academic year.
"We are delighted to receive this distinction in recognition of the hard work and dedication of IE Business School's Net Impact Chapter, as well as the commitment of the entire IE community to the idea that we can change the world through sound business management," said Tanya Shariff, former President of IE Business School's Net Impact chapter.